When you ask for an Atlantis™ Titanium Abutment at D&S Dental, we'll automatically provide it in gold-shaded titanium at no additional cost. The abutment is milled from a solid titanium alloy and coated with titanium nitride (TiN), which is applied through a molecular bond to the substrate metal. Titanium nitride provides a warm color perfect for esthetically challenging cases with thin, soft tissue or when using an all-ceramic crown. It is highly biocompatible.
We're also throwing in an insertion guide – a $25 value – with every Atlantis case. Atlantis patient-specific abutments are precision-milled and fabricated on Dentsply's milling systems for 510(k) compliance. They are compatible with most major implant systems and protected by Dentsply's lifetime warranty.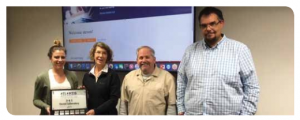 D&S Dental Laboratory has been an Atlantis Super Elite lab for seven consecutive years and is also a beta lab, testing new products and techniques for Dentsply Sirona Implants. Members of our Implants Team – Kate Seidel, CDT, Joel Thanos and Paul Whitley – are shown here accepting the Atlantis Super Elite Lab award from Dentsply Sirona Implants Representative Valerie Curry (second from left).