Joel Jennings
Client Representatives Here to Help Doctors
D&S Dental recently welcomed Joel Jennings to its client representative team. He joins John Hill and Carrie Miller Woods, who personally visit with doctors to understand their challenges and work with the lab team to help deliver solutions.
Joel has 30 years of experience in the dental industry. He started out working as a dental technician in the United States Air Force. He later became a Crown & Bridge Certified Dental Technician and worked at the former Wilson's Lab in Madison, Wisconsin. He then worked as a territory and regional sales manager covering Wisconsin and other Midwest states for a number of dental companies including Sultan Dental Products, Ivoclar Vivadent, CAO Group, Holt Dental Supply and Patterson Dental.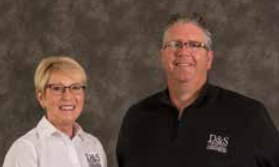 Joel Jennings joins our Client Representatives Carrie Miller Woods and John Hill, who are available to answer questions about our products or services or coordinate lunch and learns. They also welcome ideas for CE seminars we can host.