Planning for Success: Simple to Advanced Implant Supported Solutions
SPEAKER: DR. EVA ANADIOTI
Course Description:
Digital technology has transformed the way we practice dentistry. The evolution of equipment, software, workflows and possibilities is constant, making the transition exciting, but also overwhelming. Treatment planning and factors that affect final esthetic and functional results will be reviewed to guide restoratively driven surgery. A series of cases will be presented, showcasing basic and straightforward workflows for implant- supported solutions.
At the completion of this course, participants will be able to:
Understand the sequence and importance of prosthetically driven implant surgery
Review digital workflows, including guided surgery and intraoral scanning to improve efficiency and reliability
Review current restorative options for partially and completely edentulous patients
8:00 – 8:30 am
Registration and breakfast
9:00 am – 12:00 pm
Lecture presentation
12:00 – 1:00 pm
Lunch
1:00 – 3:00 pm
Lecture continued
The Ridge Hotel
W4240 WI-50
Lake Geneva, WI 53147
Complimentary
No refunds will be issued as this is a tuition-free course. The new Physician Payment Sunshine Act requires reporting of the transfer of value to
physicians and dentists. The value of this program is estimated at $50 per person, which is required to be reported to the US Department of Health & Human Services.
5 CE Credits
Subject Code: 690 Implants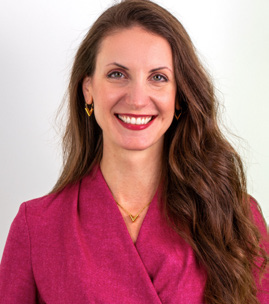 Dr. Eva Anadioti is the co-founder and managing partner at WELNOX Dental Studio in Philadelphia, PA. This is a private practice offering integrated dental, medical and wellness services. Prior to moving into private practice sector, Dr Anadioti was an Associate Professor of Clinical Restorative Dentistry at the University of Pennsylvania School of Dental Medicine and the Founding Director of the Advanced Education Program in Prosthodontics. She received her Certificate in Prosthodontics and Master's degree from the University of Iowa College of Dentistry and then completed a surgical implant fellowship at the University of North Carolina School of Dentistry. Dr. Anadioti is a Diplomate of the American Board of Prosthodontics, a Director at the American College of Prosthodontists Education Foundation Board and the Prosthodontic Commissioner at the Commission on Dental Accreditation. She has publications in peer-reviewed journals and has presented her work at university and professional conferences worldwide. Speaker Disclosure: Speaker is being compensated by Dentsply Sirona for this event, but does not have monetary or other interest(s) with Dentsply Sirona or any other company whose products are discussed or presented in presentation.